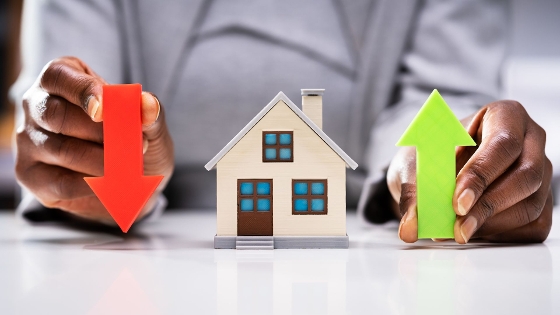 Saskatchewan reported 1,295 sales across the province in September, a year-over-year gain of 2.5 per cent and 6.3 per cent above long-term, 10-year averages. While year-to-date sales have eased compared to last year, Saskatchewan continues to report sales well above long-term trends.
Supply challenges continued across the province in September, as inventory levels were over 12 per cent lower than levels seen last year and nearly 32 per cent below the 10-year average. As inventories improved in higher-priced properties, much of the inventory decline is once again being driven by homes priced below $400,000, as the more affordable segment of the market remains highly competitive.
"As seen in previous months, significant supply challenges continue to persist across Saskatchewan, specifically in the more affordable segment of our housing continuum," noted Association CEO, Chris Guérette. "Inventory challenges and higher lending rates are, without question, impacting sales activity across the province, but relative affordability paired with strong economic growth is supporting above-average sales in our market."
Strong September sales and ongoing supply challenges translated to 4.8 months of supply across the province, the lowest level reported in September since 2009. The provincial benchmark price reached $328,000 in September, up slightly from $327,800 in August and 1.1 per cent above September 2022.
"Provincial prices remain stable as price gains in Saskatoon, Prince Albert, and Yorkton offset price declines in Regina and Swift Current in September," said Guérette. "Ultimately, real estate is local, and conditions vary across the province. That said, supply challenges in the lower-priced, more affordable segment of our market remain a significant concern provincially."
###
Regional Highlights
Apart from the Northern Region, every region across the province reported year-to-date pullbacks in sales and new listings. Despite the year-to-date decline, sales levels remain above long-term, 10-year trends across most regions, while the Swift Current Region returned to sales levels consistent with the 10-year average.
Price Trends
Consistent with prior months, the benchmark price varied across Saskatchewan communities in September. Humboldt, Meadow Lake, Melfort, Melville, Prince Albert, and Saskatoon are all reporting year-over-year price gains, while Estevan, Moose Jaw, North Battleford, Regina, Swift Current, Weyburn, and Yorkton report year-over-year price declines.
On a year-to-date basis, Regina, Moose Jaw, Swift Current, North Battleford, and Meadow Lake have all reported price declines, ranging from a high of six per cent in North Battleford to under three per cent in Swift Current. Meanwhile, Melville and Humboldt reported year-to-date price gains of nearly five per cent.
City of Regina
The City of Regina reported 305 sales in September, a year-over-year increase of 7.4 per cent and 15 per cent above long-term, 10-year trends.
Strong September sales were met with a decline in new listings, contributing to further inventory declines. With 3.2 months of supply, conditions have not been this tight in the Queen City since 2011.
Despite strong monthly sales and tight market conditions, the City of Regina reported a benchmark price of $308,700 in September, down from $313,100 in August and $319,200 in July.
City of Saskatoon
The City of Saskatoon reported 374 sales in September, a year-over-year increase of 14 per cent and nearly 8 per cent above long-term, 10-year trends.
Saskatoon is reporting year-over-year sales increases for the fifth consecutive month. When paired with decreasing new listings, the Bridge City is reporting 2.6 months of supply, the lowest level seen in September since 2007.