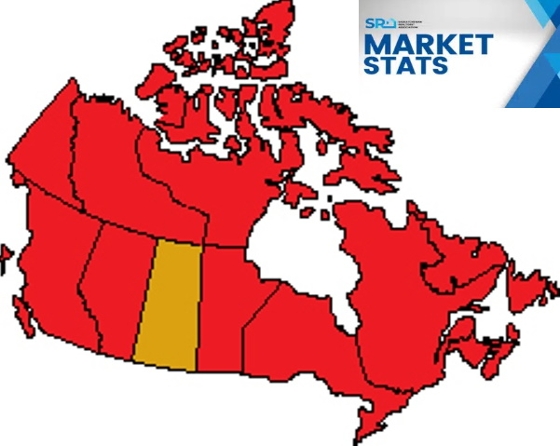 Record sales of apartment condominiums were not enough to offset declining sales in detached homes, resulting in a 12 per cent decline in residential sales in 2022. While sales have eased relative to last year, a record year, the 15,334 recorded sales in 2022 were 15 per cent higher than long-term averages. As many markets across the country are experiencing a strong shift in demand, Saskatchewan continues to report sales that are stronger than pre-pandemic levels.

There were 25,089 new listings in 2022, a seven per cent decline from the year prior and well below long-term trends. While the pace of inventory decline did ease over the second half of the year, 2022 inventory levels were 11 per cent below levels seen last year and 25 per cent below 10-year averages. Much of the decline in supply was driven by properties priced below $500,000, resulting in tight conditions in the lower-priced segment of the market.

"Without question, higher lending rates are contributing to the pullback in sales. We saw the Bank of Canada raise interest rates seven times in 2022," said Saskatchewan REALTORS® Association CEO Chris Guérette. "When paired with declining inventory levels, particularly in homes priced below $500,000, we do see that having an impact on sales."

Following strong growth throughout the spring, benchmark prices began to ease toward the end of the year. While many regions have recently reported downward price adjustments, home prices rose on an annual basis. Overall benchmark prices for 2022 were over four per cent higher than the year prior.

"The housing market is changing as consumers adjust to higher lending rates and rising costs of living. That said, Saskatchewan continues to fare better than many regions across the country and we expect that to continue in 2023" said Guérette. "With prospective buyers having to qualify at higher rates, our biggest concern heading into the new year is the lack of supply in homes priced below $500,000."
###
Regional Highlights
Sales eased across all regions of the province this year, with declines ranging from 27 per cent in Melfort to two per cent in Swift Current. Despite the pullback in sales relative to 2021, a record year, all regions reported sales that were either consistent with or above long-term trends. All regions across the province also saw a pullback in both new listings and inventory levels. Average annual inventory levels not only declined relative to last year but were well below long-term trends across all regions.
Price Trends
While many regions have experienced recent downward price adjustments, home prices rose on an annual basis. Annual benchmark price gains ranged from a low of one per cent in Moose Jaw to a high of seven per cent in Warman. The growth in prices in 2022 saw many regions set new record highs, with the exception of Estevan, Swift Current and Weyburn.
City of Regina
Easing sales in December contributed to a year-to-date decline of three per cent. The decline in sales was driven by pullbacks in the detached sector, as sales activity improved in every other category. While total residential sales have eased relative to a record 2021, the 3,609 sales reported in 2022 is over 23 per cent higher than long-term trends and well above pre-pandemic activity.
Both new listings and inventory levels experienced a pullback in 2022, with the decline in inventory largely in products priced below $500,000. Shifts in both sales and supply resulted in increasing months of supply when compared to levels experienced early in 2022. While this did take some pressure off prices, especially in Q4 2022, the benchmark price increased by over three per cent on an annual basis.
City of Saskatoon
The City of Saskatoon reported 4,587 sales in 2022, a 15 per cent decline over last year's record high but over 12 per cent higher than 10-year trends. Supply continues to be a challenge, as new listings have eased significantly and were 14 per cent below long-term averages in 2022. Meanwhile, inventory levels eased even further, resulting in average supply levels 31 per cent below long-term trends.
While a pullback in sales relative to inventory levels in the second half of the year did allow the months of supply to rise, the market remains far tighter than what we would traditionally see in Saskatoon. On an annual basis, benchmark prices rose nearly five per cent over 2021 levels.