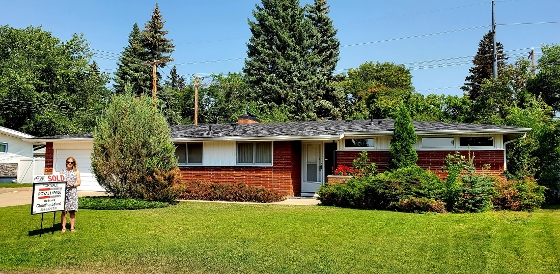 Congratulations to my VIP Tiffany on your #ABRSOLD!!!!
It may have been a battle when selling your previous home but it was war to buy your new one. After some highs & lows, lots of searching, talking you out of several properties that I knew were just not the right ones for you; You were out of your comfort zone…then this house hits the market. At first you weren't quite sure but something inside told you to see it and from the moment you walked in - you & I both knew - THIS WAS THE ONE! However, this house was also one of the most sought after, most offered on, highest attracting/wanted houses in all of saskatoon. You had one shot, so your offer needed to stand out and get noticed. With confidentiality and 'long story short' in mind…….The war was won and this custom built, one of a kind brick beauty is now all yours. #ABR #RENE. ✊ Smile big and try not to think too much about all the broken hearted buyers because you & this house were meant to be.
It has been an honor and privilege representing you as your personal realtor throughout your journey of change. Guiding, advising & fighting hard so you triumphed in the battles this crazy market thrust you into. Thank you so much for your trust, efforts & friendship. Huge Congratulations and may you enjoy every moment building lasting memories within the walls of your new home. It is truly a perfect fit. I am beyond overjoyed for you. As your advisor & friend in real estate, know I am always happy to help should you, your friends/family need. All you have to do is reach out.